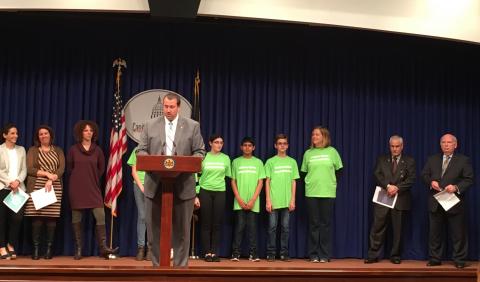 Groups gathered at the capital to share recommendations with lawmakers to restore missing link in funding equity for charter schools.
HARRISBURG, PA — Philadelphia Charters for Excellence (PCE) and the Pennsylvania Coalition for Public Charter Schools (PCPCS) today joined with Representative Seth Grove to call on lawmakers to adopt an education funding formula that provides equal dollars to traditional public and charter schools for facilities.
"At a time when charter supporters throughout the country are celebrating National Charter School Week and the excellent results achieved by charters schools, Pennsylvania is crippling the school choice movement." said Robert Fayfich, Executive Director of PCPCS. "Not only has the current administration undertaken a concerted effort to undermine all charter schools, regardless of type or quality, but the method of funding charter schools is fundamentally inequitable."
The most blatant reason for this inequity is a lack of facility reimbursement for charter schools in Pennsylvania. Traditional public school districts have several financing options available to them to fund the purchase, build or renovation of new facilities, including the levying of taxes to raise revenue. Pennsylvania charter schools, on the other hand, have few public options to finance facility expenditures and many, therefore, choose to lease their facilities.
"The construction and maintenance of facilities is an issue that every school struggles with, both traditional public and charter schools," said Rep. Grove. "The enactment of the 2015-16 Fiscal Code provides school districts with much needed relief for construction reimbursement but our charter schools are still suffering from an antiquated and unfair facilities funding system."
While Pennsylvania does have a per-pupil lease reimbursement program, it is weak by comparison to other states/cities. For example, Pennsylvania charter schools are reimbursed at a rate ranging from $160 per student for elementary schools to $270 per student for vocational-technical schools. In Washington D.C., charters are reimbursed at a rate of $3,000 per pupil–or more than 10 times the maximum reimbursement for a PA charter.
"Public brick-and-mortar charter schools receive significantly less per-pupil funding for facilities than other public schools," said Amy Ruck Kagan, Executive Director of PCE. "A recent independent study by the University of Arkansas' Department of Education Reform estimated that PA charter school students receive 32 percent less than they would if they attended district schools. Charter schools must therefore divert reserve funds to cover the cost of building, leasing, renovating or maintaining facilities, which ultimately takes more money away from fulfilling the core mission of the schools: teaching and learning."
Many other states throughout the country provide charter schools with access to other means of acquiring facilities including: grant/loan programs, credit enhancements, access to unused/underused district schools, and longer-term charter authorizations. These and other discrepancies were pointed out in a policy paper that was released today by the Pennsylvania Campaign for Achievement Now (PennCAN) entitled "Charter Facilities: The Missing Link in Funding Equity."
"Our research shows that Pennsylvania lags behind other states when it comes to equitably funding charter schools because of its comparatively weak facilities funding," said Jonathan Cetel, Executive Director of PennCAN. "Pennsylvania made significant progress for all public school students when it recently adopted a weighted student funding formula, but it's now time to close the resource gap between traditional public and charter schools by implementing policies that make it easier for charter schools to rent, purchase, and/or maintain their buildings."
PennCAN offers five policy recommendations for how Pennsylvania lawmakers can utilize tools at their disposal to help fix the facilities funding issue. The recommendations include: strengthen per-pupil facilities funding for charter schools; include charter schools in the Pennsylvania State Intercept Program for School Districts; create a capital grant program or a revolving loan fund; provide charter schools access to underutilized district facilities; and renew charter schools on terms longer than five years.
About PCE:
Philadelphia Charters for Excellence (PCE) is an association of quality public charter schools committed to organizational transparency, public compliance, and academic excellence. The vision of PCE is to accelerate change in order to create a Philadelphia public school system where all families can attend a high quality school of choice, charter or district.
About PCPCS:
The Pennsylvania Coalition of Public Charter Schools is the statewide voice for charter schools with the stated goals of helping every charter school to become a high-performing public school, making charters synonymous with educational quality, and being recognized as a national leader in driving quality and accountability in public education.
About PennCAN: 
Launched in May 2012, PennCAN: The Pennsylvania Campaign for Achievement Now, is a 501(c)3 nonprofit education reform advocacy organization building a movement of Pennsylvanians with the political will to enact smart public policies so that every Pennsylvania child has access to a great public school.
Editor's Note: The policy paper, "Charter Facilities: The Missing Link in Funding Equity" can be accessed at http://penncan.org/research/charter-facilities-missing-link-funding-equity
Contact: Jeff Jubelirer (for PCE), 215-893-4279; Lauren Hawk (for PCPCS), 610-323-3500; and Jessica Hickernell (PennCAN), 717-371-8155