PITTSBURGH, PA – On Saturday, Pittsburgh-area schools from every sector, including district magnet, public charter and independent, joined together to provide parents and families of K-12 students with information about their educational options.
At the 2017 Pittsburgh Charter School Fair, 48 schools were represented to provide attendees with information about their application process, the focus of their curriculum and programming offerings.
"The process of finding the best educational environment for your child is one of the most important decisions a parent can make, but it can also be one of the most difficult," Chase Patterson, CEO of Urban Academy of Greater Pittsburgh Charter School, said. "Urban Academy has been participating in the School Choice Fair for the past two years because it is a one-stop-shop for parents to learn about Pittsburgh's many K-12 school options."
Andrea Ruttenberg attended the Fair on Saturday to find the right educational fit for her daughter.
"It's really helpful to have all the schools in one place," Ruttenberg said. "We're considering every option as we try to find the right school for our daughter. It's helpful to be able to ask questions and talk to so many schools at the same time."
The third annual Fair was co-hosted by A+ Schools and the Pennsylvania Campaign for Achievement Now (PennCAN) with the intention of bringing awareness to the educational options available to Pittsburgh-area students, and help parents understand and navigate the various application processes.
"The Pittsburgh School Choice Fair is the only time when district, charter and independent schools come together and celebrate the diverse educational landscape of our region," Lisa Abel-Palmieri, Head of School for Holy Family Academy, said. "We are all united by the same mission to provide students with the knowledge and tools to be successful, but we each take a different approach to reaching that goal."
Media Contacts:
PennCAN – Jessica Hickernell, 717-371-8155
A+ Schools – James Fogarty, 415-608-2714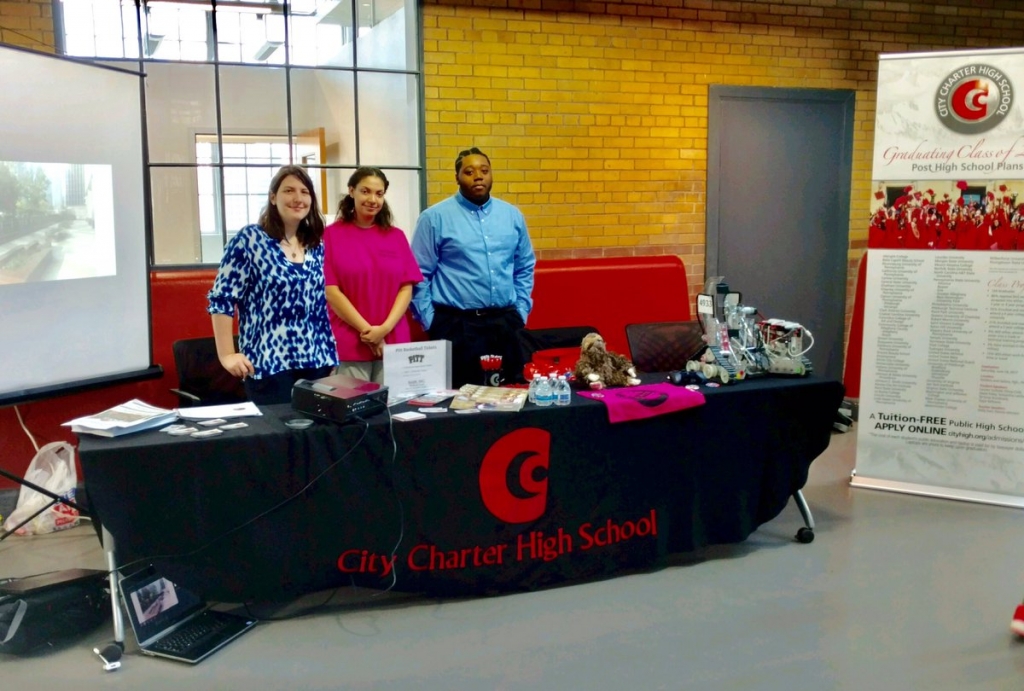 Student Ambassadors from City Charter High School – Emily Levi, Emmanuel Johnson and Jasmine Spearman – shared their educational experiences with families at the 2017 Pittsburgh School Choice Fair.  Photo Credit – City Charter High School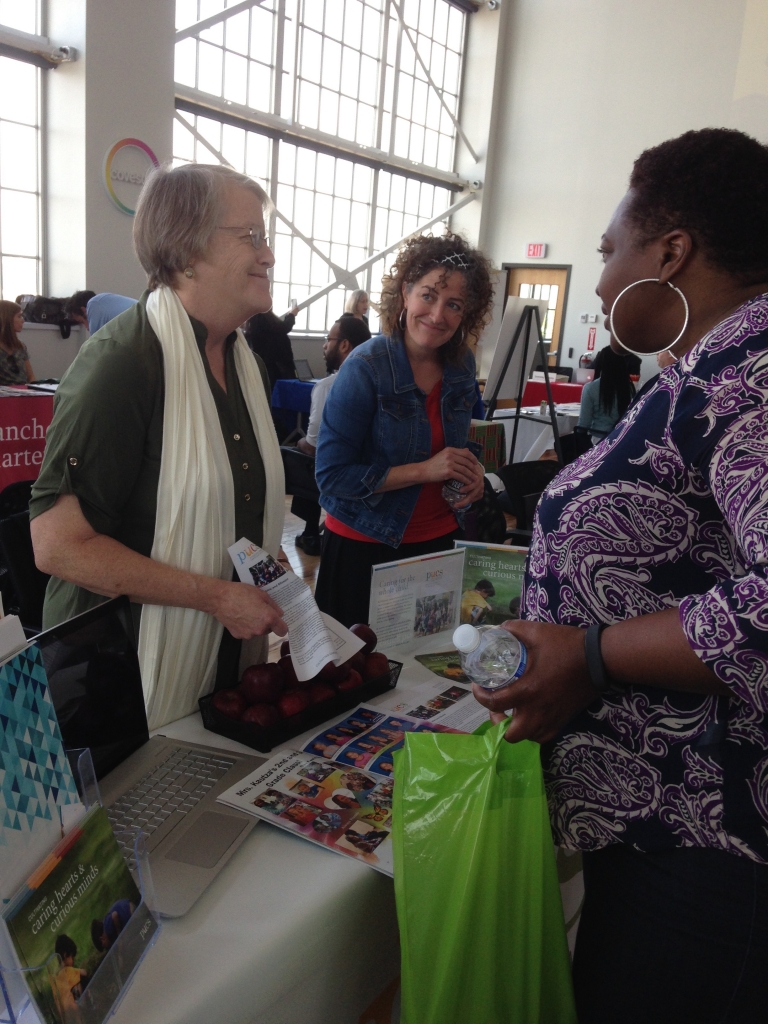 Christy Wauzzinski, Education Director for the Pittsburgh Urban Christian School, speaks with parents at the 2017 Pittsburgh School Choice Fair.  Photo credit: Rachel Amankulor
Note: Below is a list of schools that participated in the Pittsburgh Charter School Fair
Independent Schools
Campus School of Carlow University
Falk Laboratory School
Holy Family Academy
Kentucky Avenue School
Kiski
Pittsburgh Urban Christian School
Sewickley Academy
Shady Side Academy
Sister Thea Bowman Catholic Academy
Benedict the Moor School
Edmunds' Academy
The Ellis School
The Neighborhood Academy
Three Rivers Village School
Winchester Thurston School
Pittsburgh Public School Magnets (represented by the District's Magnet Office)
Allegheny K-5
Allegheny 6-8
Carmalt
CAPA
Dilworth
Liberty
Linden
Montessori
Obama
Science & Technology Academy
Brick and Mortar Charter Schools
City Charter High School
Environmental Charter School
Manchester Academic Charter School
Penn Hills Charter School of Entrepreneurship
Propel Schools (12 schools)
Spectrum Charter School
Urban Academy of Greater Pittsburgh Charter School
Urban Pathways 6-12 Charter School
Urban Pathways K-5 College Charter School
Westinghouse Arts Academy Charter School
Cyber Charter Schools
PA Cyber
Insight PA Cyber