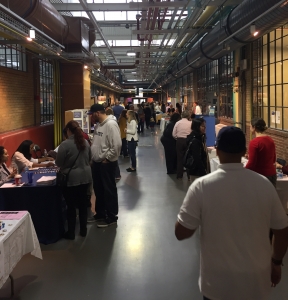 Families explore their educational options at the 2016 Pittsburgh School Choice Fair. Photo credit: Rachel Amankulor
PITTSBURGH, PA – On Saturday, Pittsburgh-area schools from every sector, including district magnet, public charter and nonpublic, joined together to provide parents and families of K-12 students with information about their educational options.
At the 2016 Pittsburgh Charter School Fair, 44 schools were represented to provide attendees with information about their application process, the focus of their curriculum and programming, and share why parents chose their schools.
A board array of families were there to learn more – from parents with preschool age children curious about kindergarten options to parents of children in middle school looking for high school options.
Parents such as LaDonna Dozier said that the fair helped her understand the many different school options available in Pittsburgh.
"All parents worry about whether their child is in the right school and so many don't even know the steps to find or apply to the right school," Dozier said.
The Fair was co-hosted by A+ Schools and the Pennsylvania Campaign for Achievement Now (PennCAN) with the intention of bringing awareness to the educational options available to Pittsburgh-area students, and help parents understand and navigate the various application processes.
"It is vital that parents know about their school options. Education is not a 'one-size-fits-all' experience and the learning environment that works for one student doesn't necessarily work well for another," Rachel Amankulor, Deputy Director of Policy for PennCAN, said. "Whether parents are looking for a unique program of study for their student or just desperate to escape a low-performing school, school choice is imperative. PennCAN came together with A+ Schools because we want to make the process of finding the right school as easy as possible for families."
Amankulor indicated that PennCAN's intention is to make the Pittsburgh School Choice Fair an annual event for families.
Media Contacts:
PennCAN – Jessica Hickernell, 717-371-8155
A+ Schools – James Fogarty, 415-608-2714
Note: Below is a list of schools that participated in the Pittsburgh Charter School Fair
Full Magnet Schools in Pittsburgh Public Schools*
| | | |
| --- | --- | --- |
| School | Grades/Academic Focus | Location/Neighborhood |
| Allegheny K-5 | K-5 | North Side |
| Allegheny 6-8 | 6-8 | North Side |
| Carmalt | K-8/Science & Technology | Brookline |
| Classical | 6-8 | West End |
| CAPA | 6-12/Creative & Performing Arts | Downtown |
| Dilworth | K-5/Arts & Humanities | Highland Park |
| Liberty | K-5/Spanish Language | Shadyside |
| Linden | K-5/German & Mandarin Language | Point Breeze |
| Montessori | K-5/Montessori | Friendship |
| Obama | 6-12/International Studies | East Liberty |
| Science & Technology Academy | 6-12/Science, Technology, Engineering, and Math | Oakland |
*PPS also has neighborhood schools that have special magnet programs.
Charter Schools
| | | |
| --- | --- | --- |
| School | Grades/Academic Focus | Location/Neighborhood |
| Academy Charter School | Serves students in grades 8-12 who are chronically truant | Pittsburgh Southside |
| Career Tech Charter High School | Planning to open its doors in 2018 to serve grades 9-12 | TBD |
| City Charter High School | 9-12 | Downtown Pittsburgh |
| Environmental Charter School | K-8 | Regent Square |
| Manchester Academic Charter School | K-8 | North Side |
| Penn Hill Charter School of Entrepreneurship | K-7 (growing to K-8 by 2017-18) | Penn Hills |
| Propel Andrew Street High School | 9-12 | Munhall |
| Propel Braddock Hills Elementary School | K-5 | Braddock Hills |
| Propel Braddock Hills Middle School | 6-8 | Braddock Hills |
| Propel Braddock Hills High School | 9-12 | Braddock Hills |
| Propel East | K-8 | Turtle Creek |
| Propel Hazelwood | K-6 (growing to K-8 by 2018-19) | Hazelwood |
| Propel Homestead | K-8 | Homestead |
| Propel McKeesport | K-8 | McKeesport |
| Propel Montour Elementary School | K-8 | Montour |
| Propel Montour High School | Opening to 9th graders in 2017-18 | Montour |
| Propel Northside | K-8 | North Side |
| Propel Pitcairn | K-8 | Pitcairn |
| Provident Charter School | 3-4 (growing to 3-8 by 2021)/serves children with dyslexia and other language-based learning differences | North Side |
| Spectrum Charter School | For students aged 13-21 who have unique cognitive, communication, and sensory challenges, including students with autism | Monroeville |
| Urban Pathways K-5 College Charter School | K-5 | Downtown Pittsburgh |
| Urban Pathways 6-12 Charter School | 6-12 | Downtown Pittsburgh |
| Urban Academy of Greater Pittsburgh Charter School | K-5 | Larimer |
Nonpublic Schools
| | | |
| --- | --- | --- |
| School | Grades/Students Served | Location/Neighborhood |
| Campus School of Carlow University | Preschool to 8 | Oakland |
| Falk Laboratory School | K-8 | Oakland |
| Holy Family Academy | 9-12 | Emsworth (6 miles from North Side) |
| Kentucky Avenue School | K-8 | Shadyside |
| Kiski | 9-12 | Saltsburg |
| Linsly | 5-12 | Wheeling, West Virginia |
| Neighborhood Academy | 6-7 (all boys) and 8-12 (co-ed) | Stanton Heights |
| Pittsburgh Urban Christian School | K-8 | Wilkinsburg |
| St. Edmunds's Academy | Preschool to 8 | Squirrel Hill |
| Three Rivers Village School | Ages 5-19 | Hazelwood |